West Yorkshire Police drink-drive campaign targets older motorists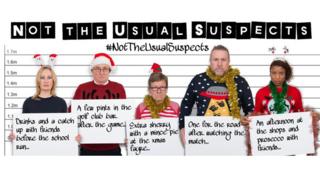 West Yorkshire Police are warning older motorists not to drink and drive.
The force said young men made up the largest proportion of offenders but there was a growing problem with motorists aged over 35.
Sgt Gary Roper said the campaign was about "driving home the message that drink-driving is totally unacceptable no matter what age you are".
Last December, 168 people were charged with drink or drug-driving in the region.
The campaign images include a number of older drivers holding up placards highlighting situations where people might be tempted to drink before driving.
"An afternoon at the shops and Prosecco with friends", and "a few pints in the golf club after the game", are two of the placards featured.
Sgt Roper said: "Drink drivers are people from all backgrounds, ethnicity and genders.
"Many of them have professional careers, they may have children and grandchildren and yet they are still choosing to get behind the wheel after consuming alcohol.
"Too many are still willing to take the risk."
The 2016 figure saw a 6.5 percent rise on the previous December, the force said.