Leeds body find: Police try to identify decomposed body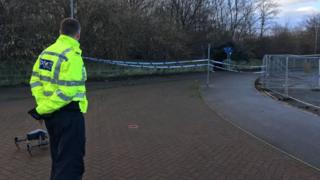 A badly decomposed body has been found in parkland near a city centre.
The remains, discovered by a passer-by in the Cross Green area of Leeds, were so decayed police could not tell whether they were those of a man or woman.
West Yorkshire Police said the member of the public reported the find at about 16:00 GMT on Friday.
A spokesperson said the force was working to identify the age and gender of the body.
It is believed the body may have been there for some time.
The area around the parkland, which is off Cross Green Lane, has been cordoned off while investigations take place.