Baby's heart surgery cancelled five times by Leeds hospital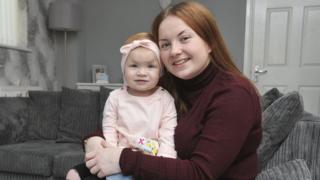 A baby born with a hole in her heart had to wait four months for a major operation to repair the defect, after the procedure was cancelled five times.
Leanne Smith, 20, said her daughter Evelyn Johnston-Smith was at risk of cardiac arrest as she waited for surgery at Leeds General Infirmary.
She said the wait had been "traumatic" but she did not blame the hospital.
A hospital spokesperson said the "difficult" decision to cancel the operation was "not taken lightly".
Evelyn's condition was spotted at the 20-week scan, and shortly after she was born she underwent a 14-hour operation in September 2016.
Doctors said she would need a second operation within a year.
The procedure was scheduled for September 2017 and medics put a deadline of 17 November in place.
However, the operation was cancelled five times because of staff shortages, lack of beds and an emergency case.
It was eventually carried out on 22 December.
More stories from across Yorkshire
Ms Smith said: "It's just traumatic having it cancelled five times and being dragged into hospital three times.
"By leaving it so long my daughter could have gone into cardiac arrest but the hospital was working as fast as they could to reschedule."
Evelyn, one, is now recovering at home following the eight-and-a-half-hour open heart procedure.
Dr Yvette Oade, chief medical officer for Leeds Teaching Hospitals NHS Trust, said non-emergency, planned operations are sometimes postponed if there is no bed available in the paediatric intensive care unit.
"These decisions are not taken lightly but we have to ensure we put patient safety first and continue to provide the highest standards of care for our patients," she said.
"We empathise with Evelyn and her family and we are very sorry that their experience didn't match our high standards."