Search on for veteran Simon Brown's glass eye collection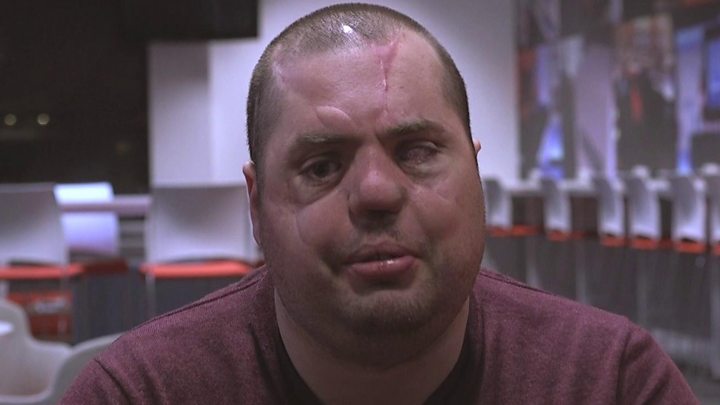 A former soldier who lost almost all of his vision when he was shot during the Iraq War has appealed for help to find his glass eye collection.
Simon Brown, from Morley in Leeds, lost a brown box carrying the 16 eyes of varying designs on one of his regular trips to London over Christmas.
He only noticed they had gone missing in the new year when he went to change his Rudolph eye he had been wearing.
The 39-year-old said he had built up the collection over 10 years.
More on this story and others in West Yorkshire
The veteran was shot in the head in Iraq in 2006 after going to repair an Army vehicle that was under fire.
He lost one eye completely and 90% of the vision in the other.
Mr Brown last saw the box on 17 December and thinks it fell out of his bag in London, in Leeds or on a Virgin Trains service between the two cities.
"The problem is the only eye I've got at the moment is the Rudolph eye, so I'm still having to wear a Christmas one," he said.
"I've got a couple of new ones on order, but it takes three months for them to be done as they're custom made."
The eyes include a Yorkshire white rose design, a union jack flag and a dart board.
Mr Brown, who is now a spokesman for the Blind Veterans UK charity, added: "It would be nice to get them back as it's a collection I've built up and it isn't worth anything to anyone else.
"It could have been thrown in a bin as it's just a brown box, but there's always a chance someone may have picked it up and handed it in somewhere."