Leeds ram-raiders drove through shopping centre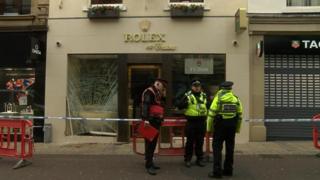 Two cars used to try to ram-raid a Rolex watch shop were driven through a shopping centre, it has emerged.
Officers said the cars drove through The Core in Leeds before trying to break into Rolex At Prestons in Commercial Street on Sunday morning.
They said after coming out the shopping centre, the would-be thieves drove into Lands Lane shortly before 12:00 GMT and turned into Commercial Street.
Nothing was stolen after the offenders failed to get into the shop.
The area consists of mainly pedestrian-only streets.
Officers said they had found the two cars, a red Fiat Stilo and a blue Ford Focus ST, abandoned in Sayner Lane on Monday.
The Fiat was reversed into the shop window and the balaclava-clad offenders then tried to remove the damaged glass, before returning to the cars and driving off.
Det Insp James Entwistle said it had been a "frightening" experience for staff in the shop at the time and for passers-by.
He said the Fiat had been previously sold but had not been registered to a new owner and the Ford had a cloned number plate.
"Neither of those vehicles has been found abandoned as yet so we would still like to hear from anyone who has seen them or knows where they are," he said.
"This has clearly been a planned and organised offence to target high-value goods in the store."