Keighley police find cannabis farm after snow-free roof spotted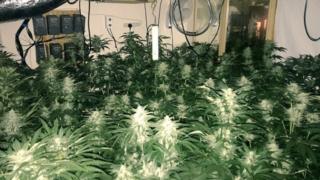 A lack of snow on the roof of a terraced house led police to uncover a cannabis farm with 322 plants.
Police noticed the clear roof on property off Arctic Street in Keighley, West Yorkshire, and noticed a strong smell as cannabis as they approached.
The heat levels required to grow cannabis plants meant any settled snow had melted.
Officers found plants - some nearly 6ft (1.8m) tall - in all four bedrooms and in the cellar of the house.
More stories from around Yorkshire
No-one was in the house when police arrived at about 14:00 GMT on Thursday, the West Yorkshire force said.
PC Caroline Foster tweeted pictures from the scene which showed the size of the operation.
Police then worked to remove the plants and make the building safe.
A spokesperson said the plants will now be officially examined and valued.
PC Foster tweeted about officers' suspicions asking why there is "no snow on your roof?"
Her colleague, James Butterfield tweeted an image of himself holding a cannabis leaf.