£10m Jo Cox Memorial Grant helps women in developing countries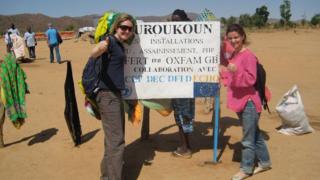 UK aid totalling £10m will be used in memory of murdered MP Jo Cox to help support women and girls in developing countries to build better lives.
International development secretary Penny Mordaunt said the money would help with issues "close to Jo's heart".
The Jo Cox Memorial Grant will be made to grassroots organisations on issues the Labour MP campaigned on, she said.
Ms Mordaunt also called for everyone to "raise their game" to help make gender equality a global reality.
Speaking in London earlier, Ms Mordaunt said: "Jo was a dedicated humanitarian who fought for gender equality at home and in developing countries.
"Her passion and commitment will continue to support the world's most disadvantaged and disenfranchised women through these new UK aid grants."
She added: "The #MeToo movement has sent shockwaves around the world and given a voice to millions of women, but the majority of women and girls in the poorest countries are still not heard.
"It is only by everyone raising their game and making gender equality a reality that we will build a more peaceful, safe and prosperous world for us all."
Mrs Cox's sister Kim Leadbeater, said the late MP spent 20 years working in the voluntary sector and overseas.
"These grants are a reminder of that and a reminder of her passion and her determination to hopefully inspire others with similar desires," she said.
"Jo would be over the moon," she said.
Former prime minister David Cameron and Sarah Brown, British campaigner for global health and education, both posted tweets welcoming the news.