Schoolgirl claims period poverty still a 'serious issue'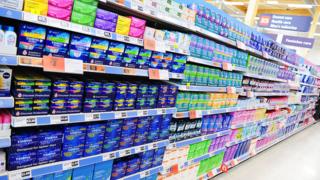 A charity which provides sanitary products to schools has claimed the government is still not doing enough to tackle "period poverty".
Last year Leeds-based Freedom4Girls was contacted by a school in the city when it became concerned about girls staying away during their periods.
Founder Tina Leslie said the charity was now giving tampons and towels to "more than 20 schools" in the city.
She said a "universal solution" must "come from above".
Ms Leslie said: "It can't be left for charities to provide them."
One teenage schoolgirl who missed lessons as her family could not afford sanitary products told BBC Radio Leeds the government was still not listening.
"I think the government definitely needs to appreciate the concept and also try and deal with the issue instead of ignoring it and thinking it is going to go away on its own," she said.
"I don't think they've listened I think it's bounced off the walls of government and I don't think they think it's their issue."
The girl said she taped toilet roll to her underwear and missed school "every month" because of her period.
'Sensitive arrangements'
Labour MP for Dewsbury Paula Sherriff said there had not been "a great deal of action" from the government over the issue.
"Sadly, I think there is still quite some significant ambivalence from the government around whether it actually exists," she said.
"I know it exists."
Ms Sherriff said she hoped the government would use proceeds from the so called "Tampon Tax" to provide funding to help with period poverty.
In a statement, the Department for Education said that schools could use their funding to buy sanitary products for pupils.
"Current guidance encourages schools to make adequate and sensitive arrangements to help girls cope with menstruation."