First Leeds flood protection scheme trees planted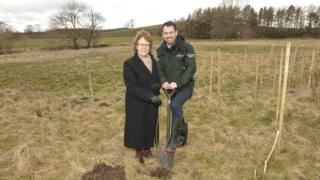 The first of hundreds of thousands of trees that will form part of a multi-million pound scheme to protect against flooding in Leeds have been planted.
About 450 saplings have been planted at Eshton Beck, a tributary of the River Aire, near Gargrave.
The trees are part of a £500,000 study investigating how natural techniques can slow the flow of water and reduce the risk of flooding downstream.
In 2015 more than 3,300 properties in Leeds were flooded at a cost of £36.8m.
More stories from across Yorkshire
The pilot forms part of plans to plant hundreds of thousands of trees across the upper River Aire catchment area under the second phase of the Leeds Flood Alleviation Scheme.
The £50m first phase of the scheme saw flood defences installed along the River Aire for the first time.
Leader of Leeds City Council, Judith Blake said: "These new trees are a hugely significant part of our plans to protect Leeds from future flooding like the devastation we saw on Boxing Day 2015.
"They are part of what will be a range of natural flood management measures in a catchment-wide approach to prevent future catastrophic floods affecting communities along the river."