'Lunatic' Bradford driver jailed for seven years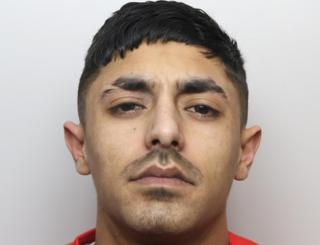 A "lunatic" driver who was involved in two serious crashes in eight months has been jailed for seven years.
Waqas Hussain, 23, was being sought over a collision in July 2017 when he ran down two pedestrians in February during a police chase through Bradford.
A 54-year-old man injured in the second crash suffered six broken ribs, a broken arm and a punctured lung.
Hussain, of Spencer Road, Bradford, admitted two counts of causing serious injury by dangerous driving.
More stories from across Yorkshire
Bradford Crown Court heard Hussain had been drinking vodka when the first crash happened on 17 July.
Broken bones
Ammarah Hussain, 20, who was a passenger in his car said he and the driver of another car were "driving like lunatics" before Waqas Hussain lost control and crashed into a tree.
Prosecutor Richard Walters said after getting out of the car Hussain fled the scene.
He said Ammarah Hussain suffered broken bones and damage to her bowel and pancreas.
The second crash happened on 26 February after Hussain was pursued by police at speeds of up to 80mph from Dewsbury to Bradford.
Mr Walters said Hussain struck the two pedestrians as they crossed the road in the Shearbridge area.
He said despite Hussain's car losing a wheel and suffering significant damage he continued to drive for a short distance before stopping.
He then tried to flee the scene but was arrested by police officers.
PC Richard Hirst, of West Yorkshire Police, said: "The fact that Hussain fled both collisions shows how little concern he had for the people he seriously injured through his dangerous driving."
Hussain also admitted charges of drink-driving, driving without insurance or a licence and failing to stop after an accident.
He was banned from driving for seven-and-a-half years.