Care worker failed to call 999 over Callum Garland tree death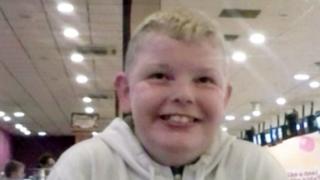 A teenager's care worker, who saw him hanging unresponsive from a tree, did not call 999 until a colleague told him to, a serious case review has found.
Callum Garland, 14, who had learning difficulties, died on 6 August 2015 after becoming tangled in a rope while climbing a tree in a Leeds play park.
The review said there were "major failures" by the care worker who was looking after the boy at the time.
Leeds City Council said the care worker "no longer works" for the authority.
A report by the Leeds Safeguarding Children Board found the care worker had allowed Callum, who was more than 6ft tall and weighed 14 stone (88kg), to climb the tree despite several risk assessments stating he "should not climb trees, fences or other obstacles because he had little or no regard for his personal safety".
When the care worker went up the tree to fetch Callum, he saw a rope around Callum's neck and tried to lift him but was unable to because of his "large size".
'Very concerned'
The worker could not find a pulse and instead of calling emergency services, he phoned the council-run care home where Callum lived and then walked "hurriedly back to the children's home", the report said.
It was only later the care worker phoned 999 after being told to by a "very concerned" colleague.
By the time emergency services had reached Callum, he was pronounced dead.
Mark Peel, independent chair of the Leeds Safeguarding Children Partnership, said the care worker's actions "fell short of what should have been reasonably expected".
He said there were no indications Callum "would seriously harm himself or take his own life".
In a statement, the authority said: "We accept all the findings in the serious case review and have already taken action to implement the recommendations made."
The review recommended care workers received further training in dealing with emergencies.