New homes 'could overwhelm neighbouring Leicestershire'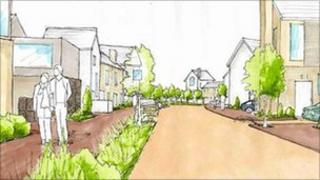 Plans to build up to 3,500 houses on the outskirts of Leicester could swamp nearby roads and schools, the county council says.
The Ashton Green development, between Beaumont Leys and Birstall, has been designed by Leicester City Council to help cope with population growth.
Leicestershire County Council's cabinet said it had not been "thought through".
The city authority, which will make the final decision, said it would consider the cabinet's views.
Ashton Green is part of a larger project to deliver more than 20,000 homes in Leicester over the next 20 years.
The city council said it would include a mix of housing opportunities as well as an "innovative" new school, shops and business facilities and would have a low carbon footprint.
The county council has said the development will use up green wedge land and put pressure on county school places, roads and waste sites.
'Extra pressure'
It is also concerned the scheme will use up valuable employment land, increasing pressure on the county to find space for developments.
Byron Rhodes, cabinet member for planning, said: "Building 3,000 houses on the city/county border will create all sorts of problems for county residents, that the city council hasn't thought through.
"It's unfair to expect Leicestershire Council taxpayers to put up with the extra pressure on roads, schools and waste sites that could result from this scheme."
A city council spokesman said: "This application is still in process and the views of the county council, and all other representations, will be taken into consideration."
The outline planning application has been submitted and a decision is expected this month.
If approved, the first new homes should be built by 2013, though the entire development could take between 15 and 20 years to complete.