Council to deal with Leicester concert venue 'failures'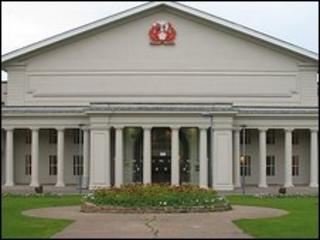 An internal audit report into the running of one of Leicester's biggest entertainment venues has found accounting and management failures.
The Leicester City Council report into De Montfort Hall followed reports that fake wristbands had been found at the city's Summer Sundae music festival.
The investigation found no wrongdoing but documented failure to follow accounting procedures.
The council said a plan has been drawn up to deal with the problems.
The report found that thousands of free festival wristbands were given out, but no records were kept of who had received them.
There was no proof that staff at De Montfort Hall had been involved in producing the fake wristbands, the report said.
The report also found that almost £1,000 from the sale of merchandising was not banked and has never been recovered.
'No denying mistakes'
An internal audit examined various documents, including purchase orders, invoices and other financial records, and found "a number of serious financial failures and poor management practices", including the failure to provide proper paperwork for petty cash and cash purchases.
The venue's manager Richard Haswell is suspended on full pay and an interim manager is in place.
Richard Watson, director of cultural services, Leicester City Council, said: "There is no denying that mistakes have been made and we have developed a comprehensive improvement plan covering whole range of areas identified in the audit report to put things straight.
He added: "Processes have been improved, procedures have been changed and staff have been trained.
"They have been very supportive of our intentions to bring things back to an even keel."
He said four upcoming shows at the venue have sold out.
De Montfort Hall was built in 1913 and has hosted acts like The Beatles, The Rolling Stones and Kasabian.