Students protest in Leicester over tuition fees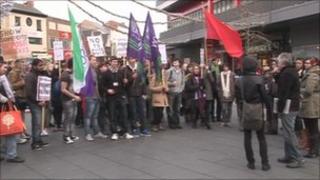 Students have protested in Leicester against a planned rise in university tuition fees and education budget cuts.
The campaigners gathered at the city's Clock Tower at midday, after urging trade union members to support them.
It was part of a day of protest, taking place in cities across the country.
It follows a rally in London two weeks ago, which ended in violence when the Conservative Party's offices were badly damaged.
The government plans to increase tuition fees at English universities to up to £9,000 a year.
'Two-tier system'
The plans have been backed by Liberal Democrat leader Nick Clegg - whose party had pledged to vote against a rise in fees in the run-up to the general election.
Mr Clegg urged students to examine the government's proposals before taking to the streets.
A spokesman for Leicestershire Against the Cuts said: "A rise in fees will limit university mainly to those who are in a position to pay, creating a two-tier education system where university is a privilege for those well-off enough to afford it, rather than a right to be enjoyed by all.
"We need to tell the government how students feel about their plans for education by showing them that we won't let them walk all over us."