Leicester fund defends Gujarat earthquake spending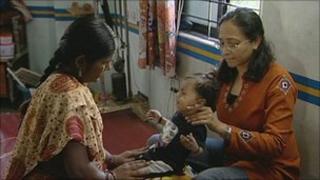 A Leicester organisation has defended not spending many emergency donations, a decade after they were handed over.
The Indian state of Gujarat, to which many city residents have family ties, was struck by one of area's most powerful earthquakes in January 2001.
Local commercial station Sabras Radio received donations, although it was not an officially registered charity.
It has spent about £80,000 but bosses said they had not been able to find suitable projects for another £140,000.
The earthquake is thought to have killed about 20,000 people and left another million homeless.
It prompted a number of appeals and thousands of donations in the East Midlands. The BBC's Inside Out in the East Midlands has investigated how the money was spent.
Despite not making a formal plea for cash, Sabras Radio found itself inundated with gifts.
Projects checked
At the time, it took a year to register as a charity and the station's bosses said they wanted to move much faster.
Don Kotak, of Sabras Radio, insisted it had done everything to make sure the fund was well managed.
He said: "In our trust deed is a very clear paragraph which says that money must be spent in that area alone and for the victims of the earthquake.
"It also must be visibly spent and spent well".
Money has gone on a rehabilitation centre, a sports hall and a traffic roundabout.
But the station said checks on other possible recipients had not been satisfactory and therefore the rest of the fund had not been used.
Questions asked
Mr Kotak added: "I'd rather say to a listener or explain to a kid, 'I'm sorry I haven't been able to spend your money properly'.
"'It is sitting across the road in the vaults of the bank and the 10th anniversary is coming and we are continuously looking to see what projects we can identify and we are at the moment looking at two or three requests for more money'."
Bharat Vadukul, from Sewa International, a charity involved in the Gujarat reconstruction, said: "People give money in good faith.
"And it is because they believe that organisation will utilise the money to do what they gave the money for.
"But if an organisation is unable to use those funds, and sit on it, and make excuses, then really questions should be asked as to what and why."