Arrest made in De Montfort Hall fraud investigation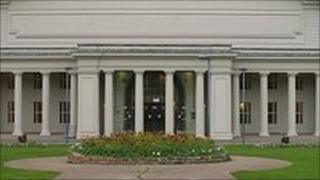 A woman has been arrested as part of an investigation into fraud at a Leicester entertainment venue.
A spokesman for Leicestershire Police confirmed the 58-year-old was arrested on Friday as part of its inquiry into De Montfort Hall.
The force is investigating fresh allegations in connection with the running of the music and entertainment venue.
The woman has been released on police bail pending further inquiries.
A spokesman for Leicester City Council, which runs the venue, said it was aware of the arrest.
"We are co-operating fully with the police over the investigation and Leicestershire Police is keeping the authority informed of any developments."
De Montfort Hall, Leicester's largest entertainment venue, was built in 1913 and has hosted acts like The Beatles, The Rolling Stones and Kasabian.