Bishop opens Leicester's £7m St Martins House complex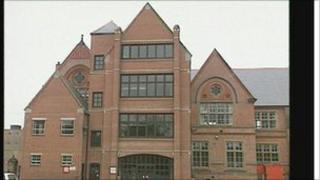 Leicester Cathedral's newly-built St Martins House complex has been blessed by the Bishop of Leicester.
The Right Reverend Tim Stevens presided over a ceremony on Sunday marking the completion of the former grammar school building into a resource centre.
The £7m centre is part of the Cathedral Square project, which aims to restore a neglected part of the city's heritage.
St Martins House offers banquet and conference facilities and services for vulnerable people in the city.
Bishop Stevens said: "The transformation of the grammar school into a place of Christian hospitality and welcome, serving all the people of Leicester and Leicestershire, reaching out to the most vulnerable in our society, is a very significant event in the life of our city."