Last airworthy Vulcan passes safety inspection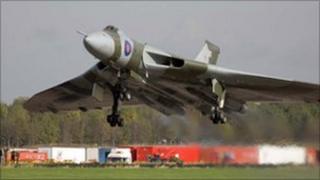 The last airworthy Cold War Vulcan bomber has been given the go-ahead to return to the skies later this year after passing vital safety inspections.
In 2007, Leicestershire-based Vulcan to the Sky Trust restored XH558, which saw action during the Falklands War.
Each year it needs to undergo strict checks by the Civil Aviation Authority (CAA) ahead of its display season.
In November, the bomber was saved from being grounded after enthusiasts raised £300,000 to meet maintenance costs.
CAA inspectors audited XH558's maintenance operations at its base at RAF Lyneham in Wiltshire last month.
Engine tests
The aircraft successfully retained its permit to fly, and final tests were carried out on the engines on Thursday.
The trust's engineering director Andrew Edmondson said: "I am proud to report that, thanks to the knowledge of our technical team and the generosity of the supporters who helped pay for the winter service, XH558 is in fine shape and looking forward to her biggest display season ever."
The bomber was introduced as part of the UK's nuclear deterrent during the Cold War.
It saw action during the 1982 Falklands conflict, when its crew bombed Port Stanley Airport to prevent its use by Argentine jets.
The Vulcan was withdrawn from service in 1984, and later restored at Bruntingthorpe aerodrome in Leicestershire.