Irish clergy visit Leicester multi-faith centre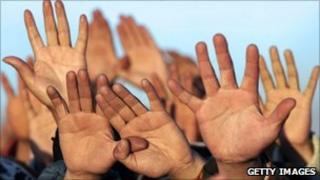 Representatives from the Church of Ireland are "impressed" by Leicester's approach to multi-faith engagement.
A group of about 20 clergy, from both sides of the border, visited the city's St Philip's Centre for a three-day programme on community relations.
The facility was set up by The Church of England in 2006 to develop awareness of different faiths in society.
The visitors hoped to learn about Leicester's successes in fostering good community relations.
The Right Reverend Michael Jackson, Bishop of Clogher, the most senior priest attending, said: "Among the people we have met, there is a tremendous respect for other people's position.
"When people disagree they disagree agreeably", he said.
Diverse communities
Over the past decade, Irish society had become increasingly diverse with people from about 150 countries making their homes on the island and bringing with them a variety of cultures and faiths.
The Church of Ireland said it wanted to find the best ways to engage with those communities in a "creative and helpful fashion".
"The St Philip's Centre is a very important introduction to how the Church of England is responding to the social and religious reality of Leicester", said Bishop Jackson.
He added that lessons had already been learned, sometimes painfully, from the troubles and the peace process in Northern Ireland.
The Very Reverend Katharine Poulton, who in 1987 was the first woman to be ordained in the Church of Ireland, said that dialogue was vital but it should be from a position of confidence and respect on all sides.
"You have to be quite firm in what you believe, but you can come to honourable disagreement over some of the issues," she said.
The Church of Ireland is part of the worldwide Anglican Communion, and has about 70 million members in 164 countries.