Protest over Leicester football pitch plans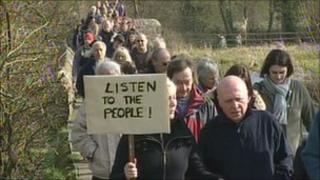 Campaigners against a proposed football pitch on a nature reserve in Leicester have held a protest over the plans.
Leicester City Council is planning to build a football pitch and a clubhouse on Aylestone Meadows.
The authority said the pitches will only involve part of the meadows, but protesters are calling for the nature reserve to be protected.
Hundreds of people marched through the reserve on Sunday afternoon as part of the protest.
A final planning decision on the proposal will be made on 21 March.
Bats and otters
A council spokesman said the project aims to allow residents to enjoy both recreation, including football, and wildlife on the property.
Leicester Friends of the Earth spokesman Malcolm Hunter said: "We are all for more sports facilities in Leicester, but there are other places where they could go.
"To put this development on part of the Aylestone Meadows local nature reserve would make a mockery of Leicester's claims to be Environment City," he said.
He said traffic and lighting would cause disruption to the habitat and wildlife, which included herons, bats, kingfishers, grass snakes, badgers and otters.
The project is also opposed by Leicestershire and Rutland Wildlife Trust and the Leicester Civic Society.