Man dragged along road by truck robber at Great Glen speaks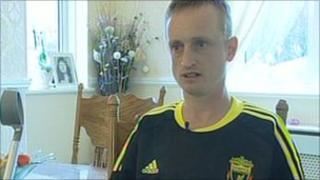 A Leicestershire highways worker has spoken of the moment he was run over while trying to stop his truck being stolen.
Father-of-three Elton Hartshorn was working on the A6 at Great Glen when he saw the man getting in the vehicle.
He ran over and grabbed the driver's door, and was dragged along as the thief tried to shake him loose.
The 37-year-old fell into the road and suffered serious leg injuries when the Toyota was driven over his leg.
He was taken to the Leicester Royal Hospital after the robbery on 3 March, where he underwent surgery.
He had rods and pins fitted in his thigh, and will need to use crutches for several months.
Mr Hartshorn, from Leicester, said he was cleaning council road signs when he spotted the thief.
"I made my way back to the truck. He got in the truck, and I was near the truck so I jumped through the window as he pulled off, and he sped away with me sort of hanging on to the door," he said.
"He didn't have any regard for me. All he wanted was to get me off that truck. He's definitely got to be caught because he could do it to someone else."
Soon afterwards, police officers recovered the vehicle about half mile away on Glen Road.
A spokesman for the Leicestershire force said the robbery had happened just before 1200 GMT on a busy section of road, and appealed for anyone who saw the truck at the time.
The suspect has been described as chubby with short dark hair and was wearing glasses.