Leicester Secular Society uses buses for census message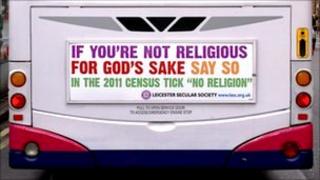 Leicester Secular Society has been advertising on city buses to urge people to think carefully about the religion question in the 2011 census.
The group believes it is important to supply an accurate profile of the country, as the survey will shape future government policy.
It is using the slogan "If you're not religious, for God's sake say so".
The national survey, set for 27 March, must be completed by law, but the question on religion is voluntary.
The British Humanist Association has also unveiled a series of similar posters on buses and billboards across the country.
Wording concern
Secretary of the Leicester society Allan Hayes said religious affiliation data could be used to determine government decisions such as faith school provisions.
"Interested parties will use the information to make their cases," he said.
The humanists also raised concern about the wording of the census question, which asks: "What is your religion?"
Dr Hayes believes people often say they are Christian in the census as a kind of default position, even when that designation is not really accurate.
"How you ask people a question very much influences how people answer it," he said.
Instead, he would prefer the question to be something like: "Do you consider yourself to belong to a religion?"
He argued the census question implied that an individual must have a religion, whereas his suggestion did not.
The Office for National Statistics (ONS), which is responsible for the census, said that the wording of the 2001 question on religion was decided after consultations with a wide range of stakeholders.
The same wording has been kept for this year's survey in order to effectively map any changes.
Ultimately Dr Hayes said he wanted people to be scrupulously honest about how they filled in that particular question.