Oakham level crossing warning as offences rise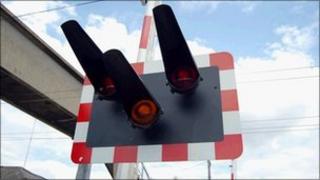 A sharp increase in the number of offences at a level crossing in Rutland has prompted a police warning.
Fifteen offences have been recorded at Oakham in 2011 compared to none in the same time period last year.
Motorists, cyclists and pedestrians are ignoring warning lights and sirens and crossing the junction when trains are approaching.
A British Transport Police spokesperson said: "It is only a matter of time before someone is seriously injured."
Network Rail said the offences recorded at Oakham were only a fraction of those that took place, with people "running the lights" seriously underreported.
Richard Pedley, community safety manager for the rail operator, said: "It is disturbing that people continue to misuse the crossing.
"Lights and barriers at level crossings are there to protect the public from an incredibly busy rail network.
"We urge people to obey the warnings and not risk their lives or cause costly delays," he said.