Barwell school's Postman Pat van in Comic Relief walk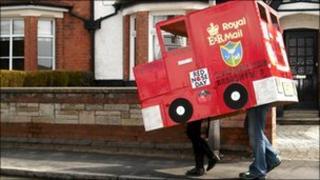 Staff at a Leicestershire school have walked across the county inside a cardboard model of a well-known red van to raise money for Comic Relief.
Barwell Junior School's assistant head teacher and a teaching assistant carried the Postman Pat van from the school to Leicester's Clocktower.
The "shattered" fund-raisers completed their 12-mile journey in under six hours.
The school's pupils raised over £1,600 in sponsorship.
Assistant head teacher Nick Holt, who was dressed as Postman Pat, and Amelia Kirkham, disguised as Jess the cat, left the school playground "with the kids giving us a nice big cheer" on Thursday at 1145 GMT and arrived in the city centre at about 1715 GMT.
Nuts and bolts
"The children have done all the work, we've made the van and done the work, but they've taken the sponsorship forms out to the community and collected as many sponsors as they can," said Mr Holt.
"We made it in really good time because at one stage we didn't think we were going to make it.
"We had a lot of support and donations along the way - it's been a joy."
Ms Kirkham, who helped create the van, said: "We're shattered... feeling the pain a little on the bones."
Mr Holt said the "well-welded" Postman Pat van was made out of materials given to them by local people and businesses.
"Someone donated 150 nuts and bolts, so having tried to put it together with PVA glue and gaffer tape, we eventually screwed it all together - it's a big thing."