Fatal crash car 'going wrong way' down A46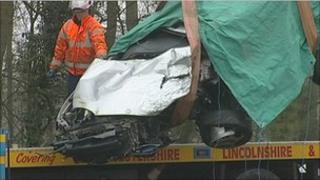 A car involved in a fatal accident in Leicestershire was going the wrong way down a main road, police have revealed.
Officers said an Audi was going south on the northbound side on the A46 near Six Hills early on Wednesday when it collided with three other cars.
The victim, named as James Richmond, 44, from Groby, was a passenger in a Mazda.
Three other people in the Mazda and two from the Audi suffered serious but not life-threatening injuries.
The road was closed until mid-afternoon, causing extensive congestion.
Detective Constable Paul Bingham, the investigating officer, said: "The Audi was travelling southbound on the northbound carriageway at the time of the collision.
"We would also like to appeal to anyone who was driving along the A46 yesterday morning and saw the Audi prior to the collision or witnessed the collision itself to please contact us."
The crash involved the grey Audi A3, the silver Mazda MX3, a black Volvo S40 and a blue Peugeot 406.