Origami fundraiser for Japan earthquake victims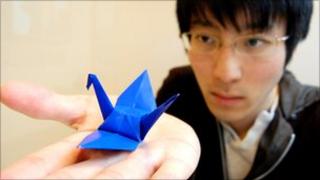 A student from a Leicester university has made hundreds of origami cranes to raise money for earthquake and tsunami victims in Japan.
Yoshihiro Kawamura, whose family live in the Niigata prefecture and have been affected by the disaster, has been fundraising at De Montfort University.
Mr Kawamura and a friend are giving cranes to people who donate to their Red Cross collection.
He hopes to make 1,000 cranes, which he said was a Japanese luck tradition.
"Watching the news I couldn't do anything - just watching, watching and sometimes crying," said Mr Kawamura.
"Creating the paper planes from origami is for the suffering people, to encourage them.
"If we create 1,000 paper cranes, [it makes] a wish comes true."
As of Friday, the fundraisers have made more than 400 of the origami models.