Leicester Market revamp 'well on its way'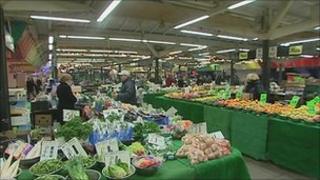 Work on Leicester market's £600,000 revamp is "well on its way" according to organisers and should be completed on time.
The plans include a new food court and open public square to be known as "Market Corner".
The old canopy over the market has been removed and new signs have been put up.
The work is due to be completed by early April. Plans for a £9m makeover were shelved due to financial pressures on Labour-run Leicester City Council.
The city council's cabinet member for markets, Councillor Paul Westley, said: "The work is progressing well and we are very encouraged by the fact that a lot of traders have approached us wanting to be part of this new open trading area."
But the project has faced some opposition. Stallholder John McCormack previously said he felt the project would badly damage trade because "no-one would want to sit in the cold and rain and the wet and the snow in a cafe in a piazza".
The new, gazebo-style stalls will be used as food venues on Fridays and Saturdays and as alternative stalls for arts, crafts and collectables from Mondays to Thursdays.