Leicester's Aylestone Meadows football plan rejected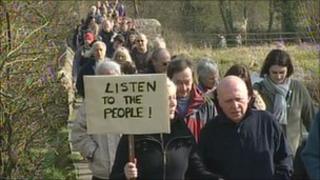 Plans to build a football centre on part of a Leicester nature reserve have been rejected by the city council's planning committee.
Protesters had opposed the council proposals to create several football pitches on Aylestone Meadows, saying wildlife would be threatened.
Councillors voted six to five against the plans at a committee meeting.
Anne Hayto from the Aylestone Meadows Appreciation Society said the group was "delighted" with the decision.
'Dreadfully disappointed'
"We need to see how we can assure that nothing like this happens again and how we can protect the meadows for the future," Mrs Hayto said.
"People were just delighted - we have been fighting this battle for 20 months now. There were a lot of people involved in this fight.
"The city council had dug themselves a hole and they couldn't get out of it.
"This was never, ever the right thing to do, to put a sporting facility on a designated nature reserve."
Laurence Jones, chief executive of Leicestershire and Rutland County Football Association, said he was "dreadfully disappointed" by the decision.
He said only a small portion of the nature reserve had been earmarked for the pitches.
The council had argued that the project would have allowed residents to enjoy both recreation and wildlife.
It said it would now consider other sites for the football pitches.