More time to quiz Leicester murder suspects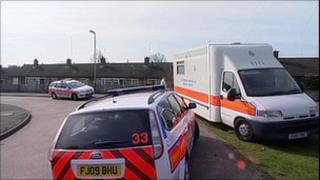 Police investigating a murder in Leicester have been given more time to question two people.
A woman, 55, and a man aged 46 were arrested after a man's body was found in the garden of a house on Flamborough Road on Thursday.
Officers have now been given an extra 12 hours to question them. A second man arrested in connection with the case has been released without charge.
The results of a post-mortem on the victim have not yet been released.
Detectives have said they are keen to speak to anyone who saw a man or a woman dumping items in any of the waste bins in and around the Willowbrook Park, Thurncourt Road or Daykin Road area over the last two weeks.
Det Ch Insp David Sandall, of Leicestershire police, said: "We realise that a lot of people will have used the waste bins over the past couple of weeks but it could well be that you saw someone acting a little suspiciously as they dumped their rubbish, or the items they were disposing of in the public bins struck you as being rather strange."