RAF Cottesmore troops' last march through Oakham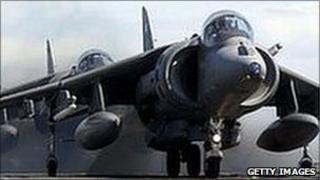 Rutland residents and schools have been asked to show support during RAF Cottesmore's last march through Oakham.
A private service of thanksgiving for the Rutland RAF base, which is due to close next year, is taking place on Thursday followed by a march through the town.
Rutland County Council has appealed for Oakham people to say goodbye to the base by witnessing then troops march.
RAF Cottesmore is due to close in March 2012 with the loss of 1,000 jobs.
Troops will form up outside All Saints Church in Oakham at 1445 BST before marching down Church Street and on to Oakham High Street to the Rutland County Museum.
'Poignant'
Rutland County Council chief executive Helen Briggs said: "This will be the last time that the RAF Cottesmore troops march through Oakham as part of the Cottesmore station.
"It will be a chance to say goodbye and show our support to the RAF on what will be a very short but poignant march.
"It is a sad time to see the base preparing for closure and the troops leaving, and I wish them all well on behalf of the council."
RAF Cottesmore opened in 1938 and during the 1960s was the base for nuclear capable Vulcan bombers. It was the home of the Harrier aircraft until 2010.