Dogs visit Meadow Primary School children in Wigston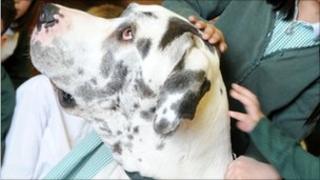 Children at a Leicester school have been visited by two dogs as part of a scheme backed by the Blue Cross animal charity.
The owners of George, a Great Dane, and Gyp, a border collie, went to Meadow Community Primary School in Wigston along with their dogs to teach students about pet care and safety.
The pupils said they enjoyed the talk.
Since 2005, the charity has reached more than 150,000 children at schools and youth groups across the country.
Eight-year-old Jacob said: "It's been brilliant to meet George and Gyp because they've helped me to learn even more about dogs."
'Really cute'
George has accompanied Jackie Strong, an education volunteer for the charity, on her school visits across Leicestershire for two years.
"The aim is to encourage young people to be the best pet owners of the future, so they learn to look after the animals properly and to be careful around strange dogs," she said.
The education volunteers, who give talks to children aged between four and 12, said it was also important to train students "to pick up dog poo without any embarrassment".
Gyp's owner Joan Cattell said: "The children get educated and, after all, they are next lot of dog owners so it's important that they understand what it means to have a dog."
Six-year-old Amber said: "I really enjoyed the talk about looking after pets.
"At home we have two dogs who are little. I hadn't seen one as big as George before but I wasn't frightened, he was really cute."