Strangers camp in Loughborough wood for film project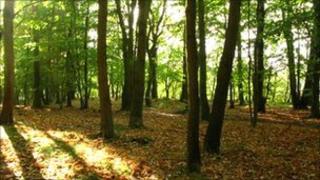 Fourteen strangers will spend a week camped in a Leicestershire wood for an arts project exploring communal living.
The experiences of the group, which is staying in a basic cabin in John Lee's Wood, Loughborough, will be filmed.
Artists Olivia Plender and Patrick Staff appealed nationally for volunteers who were interested in alternative living and folk culture.
The completed film will be shown in Leicestershire libraries during the summer.
Participants will take part in reading groups, games and movement sessions, enjoying communal meals and camp fires..
The social experiment has been inspired by left-wing outdoor education programmes from the early 20th Century, and hopes to explore group relationships in a woodland environment.
Nick Slater from Radar, Loughborough University's contemporary arts programme, said the volunteer group was made up of a diverse mix of people.
"It's going to be pretty intense because they don't know each other and they're going to be living 24 hours a day in each others pockets," he said.