Arrests after Bury goalkeeper assault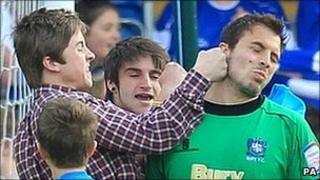 Three people have been been arrested after a goalkeeper was allegedly punched at a League Two football match.
Bury keeper Cameron Belford was taunted during a pitch invasion at the match at Chesterfield's b2net Stadium on Monday.
Police said a 38-year-old man and two boys, aged 13 and 16, were arrested and questioned. They were later released on bail pending further enquiries.
Chesterfield Football Club said anyone convicted would be banned indefinitely from attending matches.
Derbyshire Police said they were studying CCTV pictures and liaising with the club.
The pitch invasion happened after one of the home side's goals in a game Bury went on to win 3-2 and clinch promotion to nPower League One, preventing the Spireites winning the League Two title.
Mr Belford has made an official complaint.
'Extremely disappointing'
Insp Russ Dakin, who was in charge of the policing operation for the match, said: "The behaviour of a minority of people in the ground yesterday was extremely disappointing.
"We have started a post-match investigation where we will be looking at CCTV, photographs and other footage to identify people involved in these incidents.
"So far we have arrested three people but anticipate further arrests in the coming days and weeks.
"A number of people have contacted the police voluntarily having seen the media coverage.
"We are working closely with the club and rest assured anyone who is identified as being involved in an offence will be dealt with either via the criminal route or through civil or club bans."
An appeal has been posted on Chesterfield FC's website to try to identify the person who punched Mr Belford.
Stadium manager Colin Nellist added: "The very minimum that will happen to this person is they will get a ban from the club and whatever happens thereafter will depend on the courts.
"But as soon as we ascertain the identity of this person he will be banned from the club until further notice because we take this very seriously indeed."