Roads closed after Loughborough warehouse fire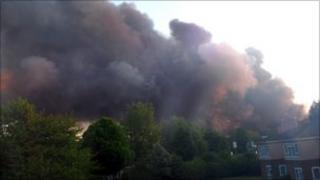 Police have closed off part of a main road in a Leicestershire town after a fire at a recycling warehouse.
The fire at the Loughborough warehouse, which contained 200 tonnes of plastic, broke out late on Sunday night.
Parts of the A6 and several streets around Weldon Road were closed because of drifting thick black smoke.
A Leicestershire fire and rescue service spokesman said the fire was under control but several crews remained at the scene.
Local residents were advised to keep their windows shut and stay indoors.
No-one was injured in the fire and an investigation is under way to determine the cause.