East Midlands racing circuit celebrates 80th birthday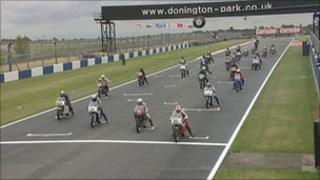 The Donington Park racecourse in the East Midlands has celebrated its 80th birthday with a competition involving classic motorbikes.
The two-day event, organised by the Classic Racing Motorcycle Club, started with a lap by Manx-Norton motorcycles.
There was also a parade of motorbikes and racing cars which have been driven at Donington since the 1930s.
The weekend events at the course in Castle Donington, Leicestershire, also featured 300 historic racing cars.