Former public toilet block goes on sale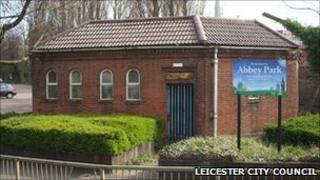 A former block of public toilets has gone up for sale in Leicester centre.
The city council is accepting sealed offers for the single-storey building on St Margaret's Way, which it said it no longer needed.
It said the site could be developed for a variety of uses, subject to planning permission.
Council investment and development manager Neil Evans said: "We've found in the past that there's interest in these quirky old buildings."
June Polonski from Spencers Estate Agents said the building was in a "fabulous" location and was confident it would sell easily on the open market.
"There's a lot you can do and properties will always sell for the right price and people will buy anything and to own a little bit of Leicester," she said.
"To own something this unusual, I'm sure somebody is going to be very, very creative with it and I really look forward to seeing where this one goes."
Last year a disused public toilet in Oakham, Rutland was transformed into a fruit and vegetable shop, while in January a former beach-side toilet building sold for £100,000 in Sheringham, Norfolk.