Man quizzed over fire at Leicester Royal Infirmary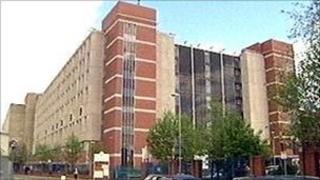 A man has been arrested after a fire at Leicester Royal Infirmary led to the evacuation of six wards.
The fire broke out just after midnight and caused extensive damage to Ward 8 of the Balmoral building.
Seven fire crews helped extinguish the flames while 105 patients were moved to other parts of the hospital.
One patient was slightly injured and is receiving treatment. Police have arrested a 40-year-old man and forensic officers are examining the scene.
The University Hospitals of Leicester NHS Trust said relatives should be reassured that all patients have been accounted for and have been safely relocated to other wards and made comfortable.
Leicestershire Fire and Rescue incident commander Dave Watson has praised the "quick response" of hospital staff who helped move people to safety.
Wards 7, 8, 9, 11, 16 and 25 were all evacuated, and Ward 8 remains closed while the police investigation continues.