Talks held over Lincolnshire show days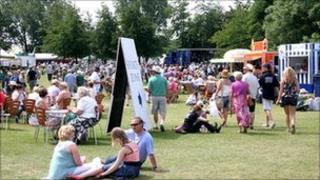 Discussions are being held this week about whether to extend the annual Lincolnshire Show into the weekend.
The plans are being considered to make the agricultural event - traditionally held midweek - more accessible for those who work Monday to Friday.
However, organisers have stressed there will be no changes before 2013.
The two-day show, which is being held for the 127th time on 22 and 23 June, attracts about 70,000 people.
It takes place at the Lincolnshire Events Centre, owned by Lincolnshire Agricultural Society.
'Agricultural heart'
Speaking on Thursday, the society's chief executive Mark Farmer said: "We've been discussing for a while now whether to potentially include a Saturday in future shows.
"We're still discussing that - we've got another meeting with our council today and if we do decide to move, it won't be until 2013. No decision will be taken today - it's just the next stage in the discussion.
"We just need to strike that balance between making sure we keep the tradition and the agricultural heart of the show, which is what people enjoy, plus potentially making it more accessible to those who work.
"So it's not a straightforward decision and we've been consulting with showgoers, traders, exhibitors, sponsors, everybody you'd expect us to, and I think we're heading to a decision later in the year."