Loughborough residents' concern after major fire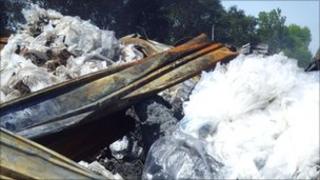 Residents in a Leicestershire town have said they are concerned about damage to their properties after a major fire.
The fire at Jayplas recycling plant on Weldon Road in Loughborough, which contained 200 tonnes of plastic, broke out on Sunday night.
The Environment Agency said their monitors indicated no resulting health risks and minimal environmental impact.
However residents have reported filthy buildings, metal corrosion, dying vegetation and the loss of pond fish.
Joan Petrick said her conservatory showed signs of burn marks and many of her neighbour's plants had died as a result of fire debris.
"I can't even sleep because of the smell, it's been that bad," she added.
Two mobile air quality monitoring units tested levels of pollution throughout Monday, when the fire was at its worst.
The Environment Agency's Steve Profit said: "[There were] some very short-lived peaks in contaminants that wouldn't have posed a risk to people in the short term or in the longer term."
'Feel heat'
Fire debris was prevented from entering the watercourse and normal oxygen values have been recorded in the water.
Those living close to the fire site were initially asked to keep their windows shut and stay indoors as a precautionary measure.
Jay Hawker, whose house is next to the recycling plant, said he decided to take his young children to sleep elsewhere on Monday night as the family "could feel the heat through the windows".
He said a dirty film had settled around their home in the following few days, but his insurance company were unable to advise him on the best course of action at present.
Michael Bradbury from Coversure Insurance, said concerned residents should contact their insurers before attempting to clean or repair property themselves.
Investigations into the cause of the fire were ongoing.