Arson charge over Leicester Royal Infirmary fire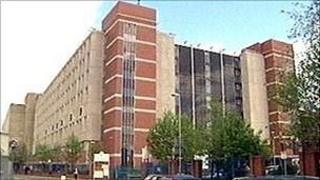 More than 100 patients had to be evacuated after fire broke out at Leicester Royal Infirmary.
Five other wards had to be cleared and the area suffered extensive damage in the fire on Wednesday night.
One patient was said to have been slightly injured in the incident after flames were seen in Ward 8 of the Balmoral building
Leicesteshire Police said a 40-year-old man was charged with arson with intent to endanger life.