Christian music and coffee offers alternative to church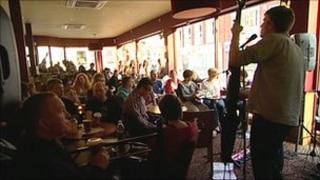 A religious music event which started in a Leicestershire town and offers an alternative to church-based worship, is spreading its organisers claim.
Sunday Night Live aims to appeal to people who may not go to church but are interested in Christian faith, with live music and inspirational speakers.
Johnny Kinch has helped launch the night at 29 other venues following the success of his flagship event at the Costa coffee shop in Loughborough.
The idea will be featured on BBC 1's Songs of Praise in June.
"I think people are curious about faith but they don't want to go to a church building because it's got so many stereotypes attached to it," Mr Kinch said.
The former BBC Radio Derby presenter, who hopes to run the event at 200 venues, said he was left praying when only four people turned up early on the opening night.
"I thought: 'What have we let ourselves in for? We've made a right mistake here'.
"[But] within 20 minutes of that prayer we had 160 people come in and cram into the venue. They were queuing down the road and it was like that every month."
Mr Kinch is continuing to launch similar nights and is hoping to organise a large monthly event at a football stadium.