Narrative verdicts after two die in crash on A46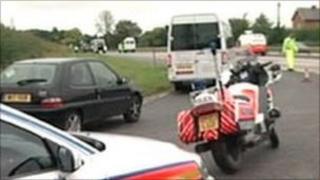 Narrative verdicts have been returned by an inquest jury after two disabled pensioners died in a crash on the A46 between Nottingham and Leicester.
Two pensioners died on 14 August 2007 when a coach and minibus collided near the junction for Six Hills.
The inquest reopened last week after a two-year delay while the coroner investigated the training given to a PCSO who attended the scene.
Police were dealing with another road accident there when the crash happened.
Coroner Olivia Davison adjourned the inquest in February 2009 after PCSO Laura Payne told the inquest she did not have enough training to deal with the situation.
The two pensioners who died - Dennis Riley, 81 and Patsy Orange, 74 - were in the minibus.
Leicestershire Police said all PCSOs and uniformed officers now had fast roads training and deployment codes had been changed.