Birstall user, 104, urges older generation to go online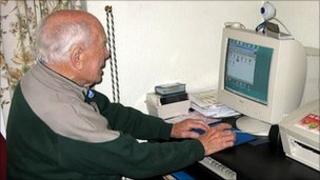 A 104-year-old Leicestershire man has urged the older generation not to be scared about going online.
George Higgs from Birstall uses the internet every day to email his son in America, who first prompted him to get onto the world wide web.
The centenarian has used computers since the early 1980s and feels they are "a very valuable asset".
However, he has not embraced everything the internet offers: "I don't Twitter, I'd sooner buy a canary," he said.
"Be prepared that the computer can be a great time waster as well as a time saver," added Mr Higgs.
Although he regularly uses email to contact family and friends, his 86-year-old girlfriend is not so confident.
Stella joins almost half of the adults aged over 55 in the East Midlands who have never used the internet.
Internet users in Leicestershire and Rutland are being encouraged to help a friend, relative or neighbour get online as part of a BBC campaign.
First Click Friends aims to prompt the 9.2m adults in the UK who do not use the internet to recognise how it can benefit them to learn.
Find out how you can help somebody you know get online by visiting the First Click Friends website .