Leicestershire plant nurseries hit by freezing winter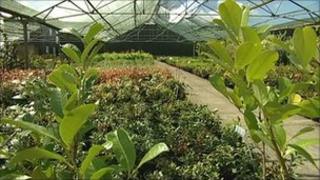 Garden centres and their suppliers in Leicestershire are set to lose thousands of pounds following record-breaking freezing weather last winter.
Growers are unable to insure plants so must foot the bill themselves.
Duncan Carrier from Sulney Nursery in Upper Broughton said the family business expected to lose more than £40,000 due to weather-damaged stock.
"In my 30 years in the trade I've never known plants die like this before," he said.
"Plants you'd always considered to be fully hardy have just been wiped out."
Foreign stock
An increase in sales - as customers look to replenish their gardens - has forced the nursery to buy in stock from Italy and France.
However Mr Carrier said it would be impossible for the business to recoup its deficit.
James Coles Nurseries, which sells 6,000 different types of trees and shrubs, has also been hit by the cold weather.
Lynn Hunter estimates losses of more than £100,000, but said the business was remaining positive despite a difficult year.
"I think that we're lucky enough that we're broad enough and large enough in our production to be able to recoup as much as we can," she said.