Leicester lifeguard, 79, encourages new swimmers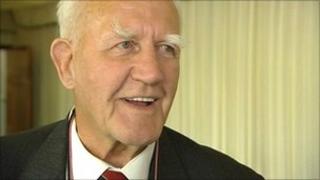 A Leicester man, thought to be the UK's oldest lifeguard, is encouraging non-swimmers to take to the water.
Harry Williams, 79, has saved numerous people over his career and still leads life-saving classes.
He said: "The main thing is putting it over to youngsters that swimming is great fun, it's great for fitness, but also it can be very dangerous."
Mr Williams was named a British swimming hero at the launch of the BBC's Big Splash campaign.
Despite suffering two strokes, breaking his neck twice and severing one of his vocal cords, the ex-Royal Marine Commando has remained dedicated to protecting other people's lives.
"I've saved three people from under Bournemouth Pier - and that was in one holiday," he said.
He still teaches lifesaving classes in Leicester, is often asked to invigilate competitions and even fits in time for a swim himself.
However much of his time is now spent caring for his wife, who has Alzheimer's Disease.
The BBC are working with national governing body, British Swimming to launch the Big Splash - a campaign to inspire people to take to the pool ahead of the 2012 Olympics.
More than 500 pools across the UK have signed up to the campaign and will be offering a wide range of activities to help the nation get healthier, fitter and more active.
To find out more visit The Big Splash website.