Keyham Lodge School awarded 'outstanding' Ofsted report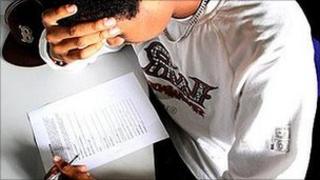 A special school in Leicester for boys with behavioural, learning, social and emotional difficulties, has been recognised as "outstanding" by Ofsted.
Keyham Lodge School teaches 54 boys aged 11 to 16, many of whom have been excluded from mainstream schools.
The education standards watchdog said the students' behaviour "improved remarkably to become outstanding".
Head teacher Nina Watts said: "The students want to make the change for themselves."
"We've managed to motivate and got hard working students. We make them recognise where they want to be, they set themselves targets and to work towards it," she said.
Ofsted lead inspector Susan Lewis said staff had "improved the school's outcomes and provision further" since the last inspection in 2008.
"The school provides an exceptionally high level of care, support and guidance for students and this underpins everything that it does," she said.
"Highly effective support and work with parents and carers, as well as with the students, enable attendance and behaviour to improve rapidly for the very large majority."