Leicestershire's winter grit beings to arrive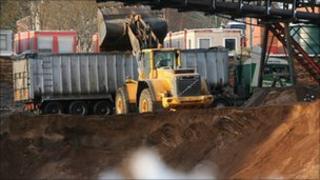 About 10,000 tonnes of gritting salt is due to begin arriving in Leicestershire this week to help treat the county's roads in winter.
The county council will take delivery of the salt in several batches over the next few months.
The authority has 5,000 tonnes left over from last year, so intends to stockpile a total of 15,000 tonnes.
The first of the deliveries are due to arrive at depots in Melton and Nailstone.
Subsequent batches will be taken to Mountsorrel, Misterton and Billesdon.
Lesley Pendleton, cabinet member for environment and transport, said: "It may appear strange stocking up on grit during hot weather, but we always order early to make sure we're prepared for the winter.
Salt and molasses
"We stocked up our barns last year to make sure we didn't run out of grit and have been praised for our work which meant Leicestershire could keep moving."
About 12,000 tonnes of grit were used on the county's roads last year, down from 16,500 tonnes in 2009 when stocks across the country were rationed after supplies fell short.
When ice is forecast, 45% of the road network is treated including most A roads, some B and C class roads, major commuter and bus routes and - as far as possible - at least one route through all Leicestershire villages, according to the council.
The authority has 17 gritters which spread roughly 150 tonnes of the special salt and molasses mix each night, covering abound 1,200 miles of highway.
The grit is supplied by Salt Union in Cheshire.