Bowel cancer testing plea in Loughborough and Coalville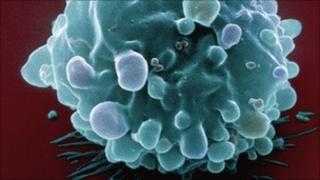 A campaign has been launched to urge over 60s in north Leicestershire to take up free bowel cancer screenings.
About one in 20 people develop bowel cancer in their lifetime but the NHS said the odds were higher for people living in Loughborough and Coalville.
Risk factors include poor diet, low exercise levels, obesity, excessive alcohol intake and smoking, with 95% of cases occurring in people aged over 50.
Leaflets will be distributed in the area to highlight disease symptoms.
Anila Sisodia, from Loughborough, had a bowel cancer scare last year after using the self-testing kit sent to everyone over the age of 60 in England.
Further hospital tests came back clear but she is keen to stress the importance of getting checked.
"I'm so relieved now and my family is so relieved because there is nothing wrong with me," she said.
"There are people, professional people who help you if there is [something wrong], so why not take help from these people and get better."
Dr Mike McHugh, consultant in public health at the Leicestershire Primary Care Trust, said only 60% of those eligible for the kit take up the offer to be screened.
"It's one of the slower cancers and more amenable to early treatment - if caught early there is a very good chance of being cured," he said.