'Aliens' crash land at Scraptoft Valley Primary School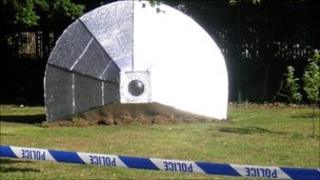 Pupils have been investigating an "alien" spacecraft which crash landed on their school field in Leicester.
About 325 children at Scraptoft Valley Primary School were made to believe by teachers that aliens had landed.
Staff at the school thought the unusual hoax would inspire the youngsters, aged between three and 11, to write more creatively and enjoy learning.
Three police officers, who cordoned off the scene, kept up the pretence by guarding the site during the day.
The police said: "It's not every day that you go work and have to go and investigate a spaceship."
'Fantastic stimulus'
Head teacher Barbara Kent said she was "delighted" the community had taken part in the exercise and "helped our children learn".
"It has been a really fun way for children to learn and the work produced by them has been amazing," she said.
She believed the exercise was a "fantastic stimulus" for writing, maths and science, as well as other areas of the curriculum.
During the investigation, the pupils gathered evidence, as well as finding a silver glove with green slime and a baby alien.
They interviewed teachers and the police, wrote newspaper articles and re-enacted what could have happened.
In a report, 11-year-old Abigail wrote: "There have been sightings of unusual footprints. There is red jelly-like stuff all over the field. The police told us they think it's blood."
Nine-year-old Dylan said: "Most of the children did their best to stay calm and help."
Pupil Ellis, 11, said it was "sometimes creepy and sometimes fun", but it was a "great day".