Leicester shopping centre plans multi-faith prayer room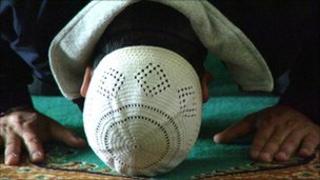 A Leicester shopping centre plans to open a multi-faith prayer room to allow shoppers space for quiet reflection.
George Ballantyne from Leicester Council of Faiths said the organisation had been asked to offer advice on the design for the area in Highcross.
"We're looking at how the facility can be something that serves all the faith communities in Leicester", he said.
He hoped it would also benefit people simply looking for a break from the "hustle and bustle of everyday life".
Rosemarie Fitton from Leicester design company Heterarchy said she often found existing prayer rooms in public spaces to be "bland" and uninspiring.
"People have taken all images of spiritual symbolism away and they've taken so much away that you end up with nothing basically, you end up with spaces that look like doctors' waiting rooms," she said.
"It has to have some element about it that leads you to self reflect and I think for space to be adopted, it's got to have something special about it."